Rampant Bureaucracy
A Public Service Musical Melodrama

Shiny Bum Singers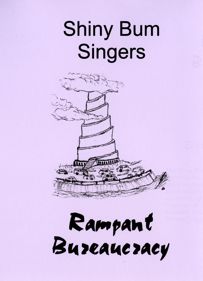 The Shiny Bum Singers' second musical melodrama explores the relationship between public servants and their political masters. A range of sensitive areas are ruthlessly probed, including penny-pinching and cut-backs, politicisation and whistle blowing, the Freedom of Information Act, the power of political advisers, and not least, the vexing question of How Did the Octogenarian Cross the Road. This book contains the full text of the script and the words of the songs.

Format: A5, 32pp, illus. ISBN 978 1 876668 26 6. Price: $5.00 (Australian dollars)


The Shiny Bum Singers' big book, The OmniBum and the CD An Audience with the Shiny Bum Singers are also available.
---
Boris Books, P.O. Box 1388, Woden, A.C.T. 2606, Australia