The Shiny Bum Singers
The Shiny Bum Singers launched their new CD at the National Folk Festival in Canberra - Easter 2006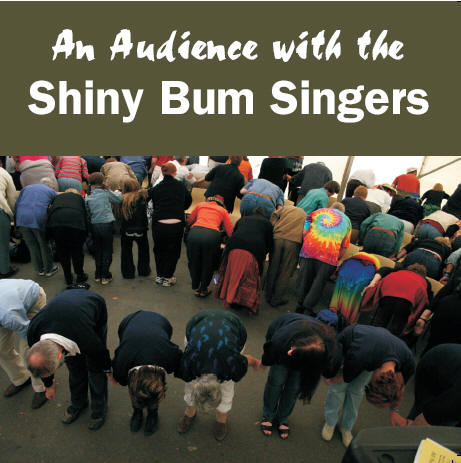 In the beginning there was an Audience (at the National Folk Festival 1998). And in the Audience were some public servants (also known as "shiny bums"), listening to the work songs of other occupations. And we said "Where are our singers? Where are our songs?" And so the Shiny Bum Singers were formed. At our debut at the National Folk Festival in 1999, you turned up in hundreds, and many more were turned away. By the second performance that evening we had achieved cult status, with another packed audience of great folk voices. Your massive choruses were the inspiration for this CD.
All our performances since have been An Audience With the Shiny Bum Singers. Our cover photograph shows us and our audience workshopping the Shiny Bum salute at the 2005 National Folk Festival. And you would not let us stop — 2006 is our eighth year.
This first CD is of live performance tracks from the first five years, so that everyone, whether they were there or not, can share the atmosphere and audience response. This album is the sound of people enjoying themselves. And if you were at these performances, your voice is on this CD.
Buy the CD online at our publications page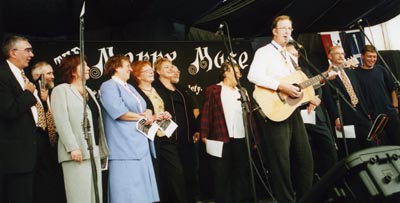 Bruce Watson gets the crowd in the mood at the CD Launch - National Folk Festival Canberra April 2006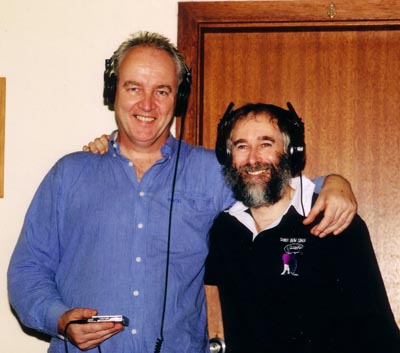 Tim and Chris happy with the recording and production...
There are twenty four songs on the CD, with one (the lift shanty Farewell and Adieu) spread over four tracks.
1. And I'm Late for Work Again
2. Early One Morning
3. Farewell and Adieu (1)
4. Black Velvet Band
5. Executive Perks
6. Coffee and Muffins
7. The Office Fridge
8. Auld Plan Syne
9. Nancy: Re Work Overflow
10. Farewell and Adieu (2)
11. Security
12. Farewell and Adieu (3)
13. Word is to the Minister Gone
14. Departmental Heroes
15. I Saw Three Ships
16. Throw the Kids
17. Freedom of Info
18. Oh Minister
19. Gypsy Rover
20. Hocus Pocus
21. Budget Night Tonight
22. Farewell and Adieu (4)
23. All Through the Night
24. The Last One in the Section
25. Today I Retire from the Service
26. Batemans Bay
27. Drink! Drink! Drink!
Here are two of the songs, with performance notes.
Throw, Throw, Throw The Kids
Tune: Row, Row, Row Your Boat
Throw, throw, throw the kids
Gently overboard
Use the boat to boost the vote
Truth will be ignored
Copyright © Jim Street, 2002
Farewell and Adieu
Tune: Spanish Ladies
This is a "lift shanty" with the verses for arrival at work, going to and returning from lunch, and going home split on this CD as it was in performance. We sang it packed into an invisible lift on stage.
Morning shanty
Farewell and adieu
To the trees and the blue sky,
Farewell and adieu
Sunshine and fresh air,
For I have to work
For my income and my ego,
But if I win the lottery
I really won't care.
Chorus:
We'll consult and we'll brief
Like true public servants,
Consult and we'll brief
Even when there's no need,
And always there's filing,
Email jokes keep me smiling,
And the tea breaks and branch cakes
Are rites of the creed.
Out to lunch shanty
Farewell and adieu
To the pile in my in-tray,
Farewell and adieu,
I'm departing at speed,
For now I'm on lunch break,
I'll leave it at the office,
I'm off to the fresh air
To frolic and feed!
Chorus
Back from lunch shanty
Farewell and adieu
To the trees and the blue sky,
Farewell and adieu
Not a moment too soon,
For lunchtime has ended
And panic has descended,
That note to the Minister
Was needed by noon!
Chorus
Evening shanty
Farewell and adieu
My high-flying colleagues,
Farewell and adieu
You who choose to remain,
For I'm going home
To my dinner and my family,
But in all too a short time
I'll see you again.
Chorus
Copyright © Frankie Seymour, 2000
Buy the CD online at our publications page