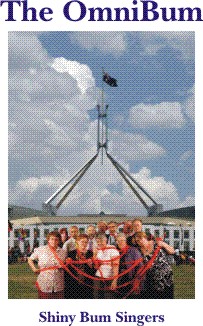 The OmniBum
The Omnibus Collection of Work Songs of the Public Service
as performed by the
Shiny Bum Singers
A4, vi+122pp, comb bound. ISBN 978 1 876668 18 1. Price: $30.00 (Australian dollars)
From procedural stuff-ups to Ministerial misadventures, the work of the Australian Public Service is a source of constant joy to the Shiny Bum Singers. This OmniBum brings together all the Shiny Bum Songs published so far, plus other songs performed but not published, and lots of new photos and stories about the group.
Of the 197 songs in this book, 51 have not been published by the Shiny Bums before. Many were written for special occasions. The other 146 appeared first in the six small songbooks.
This book replaces the six small songbooks, but if you want any of these, they are still available.
---