Goodnight PM

David Meyers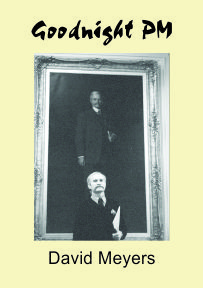 Goodnight PM, A5, 20pp. ISBN 978 1 876668 24 2. Price: $5.00 (Australian dollars)
A memorial to Dave Meyers' contribution to the repertoire of the Shiny Bum Singers.
This book presents all twelve of the songs that Dave wrote for the Shiny Bums, plus two other works by Dave―one being a song sparked by a meal at the Top Half Folk Festival, and the other being a humorous poem he wrote on the subject of death.

His performances were always a joy, nicely laidback, professional, and a delight. An honorary Territorian, and an honourable bloke, and he will be sadly missed.
―Dave Evans, Alice Springs

We will certainly miss him. He had a very nice touch with a word or two and a low key delivery which was most engaging. And a very nice man to boot.
―Peter Bate, Darwin

Dave will be sorely missed at future Top Half Festivals, as he had more or less become an institution ... co-hosting the Poets' Breakfasts with Jim Smith, and singing his entirely different songs on the concerts, as well as for his company and bonhomie.
―Tony Suttor & Jenny Armour, Humpty Doo

Contents
The Five Dollar Dinner
Unnamed Malady
Favourite Things
Workin' Through the Spam
Laptops in the Sky
Can't Take My Hands Off Of You
Phones out of Range
Some Fuel I Can Buy
Smug the Smarmy Treasurer
I Hate Pollies on Telly
Inside
Goodnight PM
Australia
Re-past

Here is one of the songs:
Phones out of Range
Tune: Home, Home on the Range (M.M.Murphy)
Oh give me a phone that'll work when I roam
In the country when I need to ring
Where seldom is found any kind of a sound
You'd be better with tins on a string
Chorus: Phones, phones out of range
In the bush where the punters all pay
Where seldom is heard any kind of a word
And reception is cloudy all day.
How often at night, where the heavens are bright
When I'm stranded by some lonely tree
Have I sat there amazed, and asked as I gazed
Where the hell is that Telstra's "Next G"
Chorus
Oh give me a land, where the towers all stand
By the roadside wherever I go
Where seldom are seen any "out of range' screens
And my mobile is always aglow.
Chorus
---