A Four King Close Thing
A Not the Nativity Pantomime

Shiny Bum Singers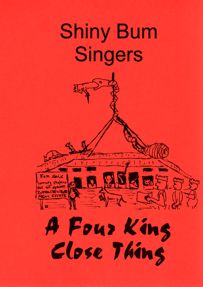 The Shiny Bum Singers have launched into pantomime, featuring Angel Gabrielle, Three Wise Kings, a devoted lesbian couple from modern day Canberra, a dingo and her pup, King Herod the Horrid and his Thug, Corporal Bruiser, in a time-travelling nativity drama. It can be counted on to murder some of your favourite Christmas carols. First performed at the National Folk Festival, 2015.

Format: A5, 36pp, illus. ISBN 978 1 876669 7. Price: $5.00 (Australian dollars)


The Shiny Bum Singers' big book, The OmniBum and the CD An Audience with the Shiny Bum Singers are also available.
---
Boris Books, P.O. Box 1388, Woden, A.C.T. 2606, Australia